Code of Conduct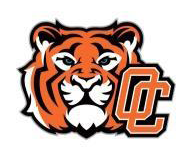 Athletic Code of Conduct Orange Center Elementary School
I understand that it is a privilege to participate on all athletic teams at Orange Center School. In signing this I am promising that I will:
Maintain a 2.0 Grade Point Average.
Not leave the school grounds before or after a game without notifying the coach.
Tell a coach or leave a message if I will not be at practice.
Bring a note from home for all missed practices.
Not be able to practice if I do not participate in P.E.
Be responsible for all items checked out to me.
Be at practice to be able to participate in the next game.
Have my uniform with me on game day. (No phone calls)
Dress only in Orange Center uniform for games.
Be dressed before release time for game.
Be disciplined for behavior not becoming of school or team.
Be eligible to practice and play.
Not have any detentions or major bills ($10 or more) due before game time.
Respect students, referees and coaches from other schools.
Play the game with respect to the rules and with fair play.
Stay with my team and coach at away games.
Get permission from coach to go to restroom or snack bar.
Not use profanity.
Take responsibility to do my share when it comes to bringing out team gear to practice and games.
Follow all rules for the team, set by the coach, at practices and at games.
Follow all school rules.
Have a parent sign me out with the coach if I am not going home on the bus.
Be at school at least four periods on game days with a legal reason for any periods missed.
Return all equipment and my uniform directly after my last game of the season or at the time that I become ineligible to participate.
Be dismissed from the team if I miss three practices that are unexcused or without a note.
Understand that if I quit the team after four weeks, I will not be able to play the next sport.
Understand that if I get suspended from a sport because of behavior in that sport, I will not be eligible to play the next sport.
SIGNATURE OF ATHLETE______________________________________ Date: ___________
SIGNATURE OF PARENT_______________________________________ Date: ___________